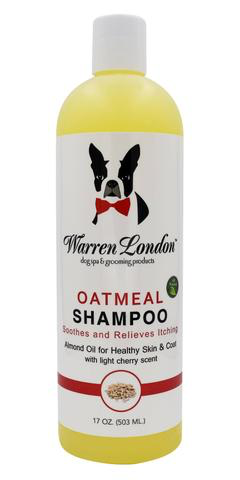 Oatmeal Shampoo - For Dogs With Itchy Skin and Coats - Cherry Scented
$15.00
Warren London's natural Oatmeal Pet Shampoo is a high quality product that not only provides relief for itchy, scaly, and sensitive skin, but also revitalizes your dogs coat to give it a great look. Allergies stem from many sources, whether from grass, pollen, food, fleas or other irritants, and can leave your dog feeling miserable. This shampoo was formulated to relieve these issues and allow your dog to feel happy again. 

This shampoo is soap and detergent free!
Directions
For best results, use 2-3 times per month. Use warm water and wet your dog thoroughly. Apply enough Warren London oatmeal shampoo to make a rich lather. Cover all parts of the coat and be extra careful around the face and eyes. Let stand for 5-10 minutes, then rinse thoroughly. For best results, repeat process.
Ingredients 
Deionized water concentrated surfactant blend (coconut base shampoo), Vitamins, A, D, E, EGDS, EDTA (sequestrant), glycerin, glyceryl stearate, wheatgerm glycerides, hydrolyzed oat proteins, blend of cherry and botanical extracts, almond oil, proprietary blend of coat and skin conditioners and moisturizers, yellow #5, DMDH Hydantoin, deionized water.