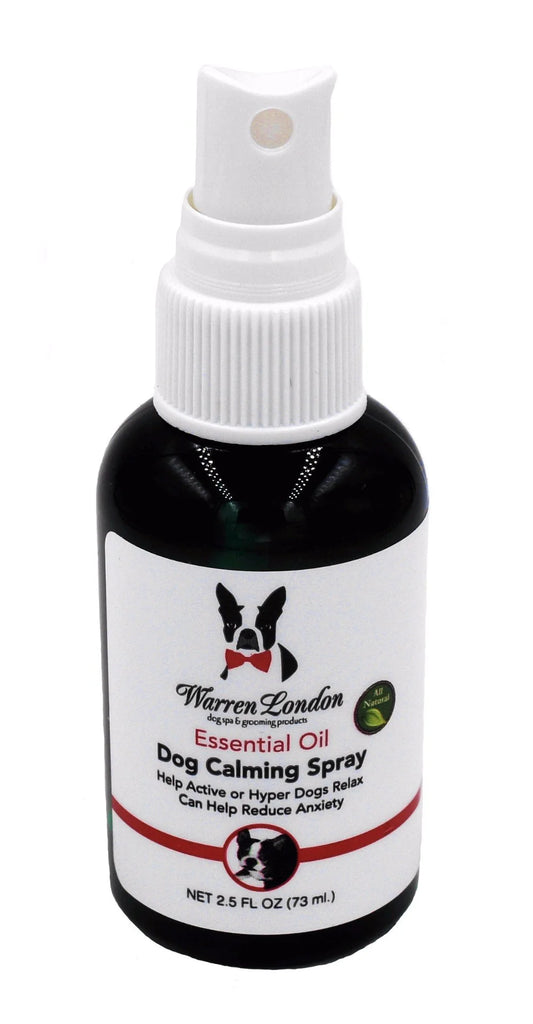 Essential Oil Dog Calming Spray
$18.00
Naturally calm your hyper pet and reduce the stresses associated with grooming visits, houseguests, trips to the vet, fireworks on 4th of July, storms, and more!

Calming Aromatherapy- Contains calming essential oils for dogs that instantly transform the demeanor of your dog to one of tranquility and calmness

Safe and Non Toxic - Contains the following Natural Essential Oils: Lavender, Sweet Orange, Vetiver, and Clary Sage - Contains no harsh chemicals or sedatives - Made in the USA

Easy Use - Apply to your pet's chest or lower back for fast acting relief - Can also be sprayed on kennel or bedding

Dog Anxiety Relief - Consider this Calming Spray as a companion or replacement to other products targeting anxiety relief for dogs or other pets, such as calming treats for dogs, calming shirts for dogs, natural oil for dogs, or cat calming products.
Directions
Spray directly onto dog.  Should be sprayed on their lower back and/or on their chest below their face. Can also be sprayed in cage or bedding.

Ingredients 
Lavender, Sweet Orange, Vetiver & Clary Sage