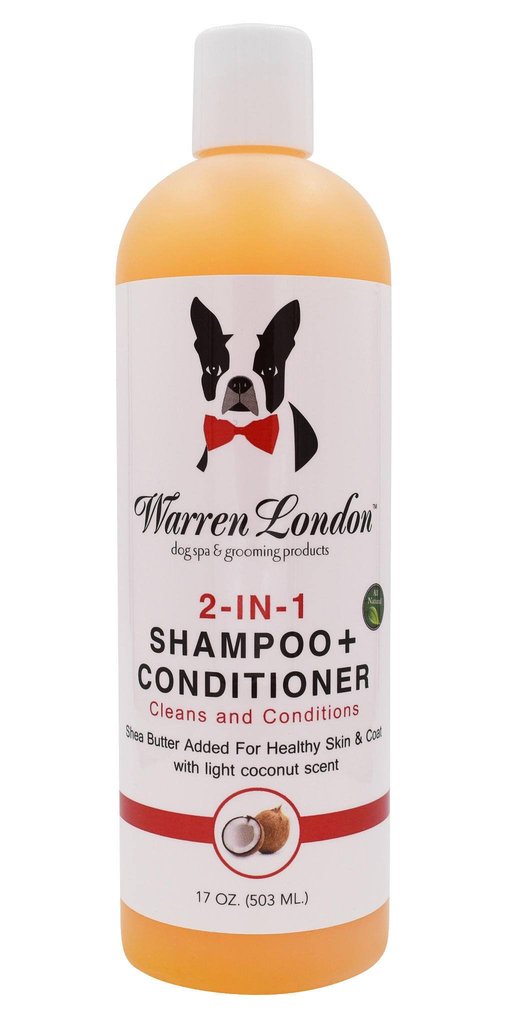 2-in-1 Dog Shampoo + Conditioner - Coconut Scented
$15.00
Warren London 2-In-1 Dog Shampoo + Conditioner is all natural made with the highest quality ingredients. This long lasting coconut based scent will be the perfect solution to your dog's bathing needs.  Along with the other natural ingredients we found that coconut and lanol extract produces the perfect shine and feel to any kind of coat. Lastly, we added in a special cream rinse that conditions to the coat to perfection. 


This product is soap and detergent free and will not disrupt topical flea preventatives. Can be used on dogs and cats.
Directions
For best results, use 2-3 times per month. Wet your dog thoroughly with warm water. Apply enough Warren London 2 in 1 Shampoo & Conditioner to make a rich lather. Cover all parts of the coat and be extra careful around the face and eyes. Let stand for 5-10 minutes, rinse thoroughly. For best results, repeat process.
Ingredients 
Deionized water, concentrated surfactant blend, coconut base shampoo, vitamin E, glycerin, glyceryl stearate, plant proteins, shea butter, coconut extract, EGDS, EDTA (sequestrant), proprietary blend of coat conditioners and skin moisturizers, DMDH hydantoin, yellow #5