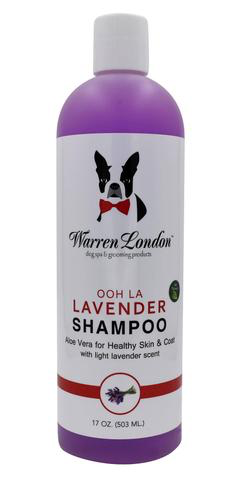 Calming Lavender Dog Shampoo w/Aloe Vera & Essential Oils
$15.00
Warren London's Ooh La Lavender shampoo cleans while leaving a long lasting fresh Lavender scent. We used all natural ingredients and kept it PH balanced specifically made for all kinds of dog coats. The aloe vera added to this formula will also help to create a softer and smoother coat. The results have been amazing and you have to see it to believe it. 
This product is soap and detergent free and will not disrupt topical flea preventatives. Can be used on dogs and cats.
Directions
For best results, use 2-3 times per month. Wet your dog thoroughly with warm water. Apply enough Shampoo to make a rich lather. Cover all parts of the coat and be extra careful around the face and eyes. Let stand for 5-10 minutes, rinse thoroughly. For best results, repeat process.
Ingredients 
deionized water, concentrated surfactant blend (coconut shampoo base) which is detergent and soap free, Aloe Vera, EDTA (sequestrant), vitamins A, D, E, proprietary blend of botanical extracts and oils from orchid, lilac and lavender plants, natural Lavender fragrance, DMDH hydantoin. This formulation contains no alcohol or animal by-products